Memorial Bench in Place
Published 22:00 on 9 May 2022
Dick Banks was a Club member for more than three decades. As Vice Commodore, Sailing Secretary, RYA Principal, and Chief Instructor, Dick was a gifted leader, a provider of wise counsel, and, above all, a true gentlemen. His tremendous contribution to Seafarers was acknowledged in 2017 when he was elected an Honorary Member.
Dick was a knowledgeable, enthusiastic, and competitive racer, the Solo being his boat of choice from the mid 1990s. It was while racing his Solo in beautiful conditions on a Thursday evening in July 2021 that Dick suffered a major heart attack. Unfortunately, despite the tremendous efforts of those present and the attendance of a huge array of first responders, Dick did not survive.
Following Dick's funeral, the Club received £210 to provide a memorial. It was agreed that this generous donation would be used to purchase a bench dedicated to Dick. This bench has now been delivered and has been sited on the patio.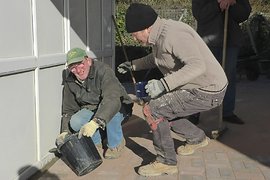 Last updated 16:13 on 27 June 2022