Cruising


Local Area Cruising
Cruising has always been a popular element of the Club`s sailing programme. Many members prefer cruising to racing with the former's noncompetive nature and refreshment interlude. There are members who like to be involved in all aspects of sailing and do both. With so many interesting destinations available, Seafarers is perfectly situated for cruising. Most cruise destinations have somewhere to buy food and drink and provide a good view to enjoy whilst relaxing with your cruising companions.
A variety of boats are used for cruising. Larger dinghies such as Wayfarers, Wanderers, Laser Stratos`and the RS Venture are quite popular. However, smaller multi-crew boats such as the Enterprise, Vision and GP14 are used. Outboard motors are commonly fitted to a number of our cruising boats.

Safety is a major consideration and the decision on whether to cruise or not is largely dictated by the current and forecast weather conditions. The overriding principle is that a decision to go sailing in any weather condition however benign is the ultimate responsibility of the individuals who take to the water. We ask you to be responsible for yourself and not to put yourself or others in danger.
All 'Club Organised' cruises follow the Club approved standard guidelines recommended by the RYA. A buddy boat system is used to ensure that, if any boat gets into difficulty, there is another boat close by to provide assistance. A land based Shore Contact is provided who has access to the passage plan and crew contact details and is in communication with the cruise leader. Please note that Wednesday and ad-hoc cruises are self-help and not run under the SSC organisation, they are therefore not 'Club Organised' cruises. The decision to participate and accept the risks involved in any cruise whether 'Club Organised' or not remains with the helm of the boat.
A full set of guidelines for the leader of a Club Organised cruise, the Cruise Secretary or his nominated deputy, and all helms will be found in the Cruising Guidelines. For all other cruises the advice contained in this SOP is recommended best practice. These guidelines cover passage planning, completion of the 'Sign on Sheet', communication with the Shore Contact equipment to be considered. For some people this will be business as usual. For others, perhaps new to cruising, this may seem daunting. Do not be put off. Cruising is, potentially, a very enjoyable activity. Like any water sport, if carried out with a little common sense and planning, cruising can be hugely rewarding.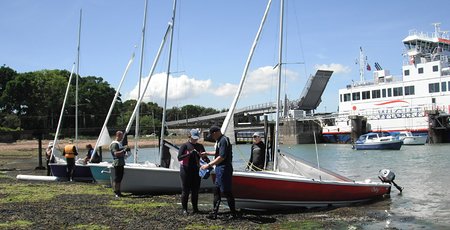 The Cruising Programme can be accessed from the menu on the right ("More" for smart phone users).If you would like to know more about the popular cruise destinations or read about previous Club cruises then Login and select Cruise Navigation, Cruise Destination Map, Cruise Destinations or Cruise Reports from the side menu ( via "More" for smartphone users).
Photographs of many of the cruises that have taken place over the years can be found in the Gallery and in the Gallery Archive.
If you are interested in cruising around the Solent and would like to know more, please contact Clive Dakin the Cruise Secretary. We hope to see you cruising soon.
Flotilla Holidays
Within the Club membership there have always been those who owned yachts and/or were experienced yacht sailors. Toward the end of the 1990s, a couple of those with experience encouraged a few Club colleagues to join them on a flotilla holiday. In May 1998, ten Club members spent two weeks in the Ionian sailing 3 Beneteau 32s from Corfu to Lefkas. Over the next four years, a subset of the initial group took flotilla holidays each May; in 1969 in Greece and from 2000 to 2002 in Croatia.
After a pause, Club members returned to Greece in 2007. Since then there has been a Seafarers crewed boat in a flotilla in Greece of Turkey at least once every year until 2020 when a plan for 32 members to sail around the Greek islands for a week in October had to be postponed because of the Coronavirus pandemic.
A summary of the flotilla holidays enjoyed by groups of members with more detailed reports on many of them can be accessed via the Flotilla Holidays button in the side menu ( via "More" for smartphone users).
Last updated 16:13 on 27 June 2022