Access All Areas - Tuesday 9 August
Published 18:40 on 31 Jul 2022
Once again, Fareham Borough Council (FBC) is organising a summer holiday activity programme for 11-16 year olds titled "Access All Areas" (AAA). More information on the programme for 2022 is available from the AAA webpage of FBC website - see also the notices above.

On Tuesday 9 August the AAA venue will be the Salterns. In the past, FBC have provided a range of activities in the field adjacent the compound; sailing with Seafarers Sailing Club was just one of many activities on offer. However, because it proved so popular, our introduction to sailing has been the only activity at Salterns since 2018. You will recall that our purchase of three Hartley 12.2 dinghies was part-funded by an FBC grant. Our support for "Access All Areas" helped our grant application.
On Tuesday 9 August we will run introduction to sailing sessions from 10:00. We will provide three large Club boats each helmed by an experienced dinghy helm and carrying up to two youngsters per session. There will be four sessions in the morning from 10:00 until12:00 and another four in the afternoon from 14:00 until 16:00. Each on-water session is expected to last no more than 30 minutes.
Volunteers are required to act as coordinator, shore crew, beach crew, patrol boat helm and crew, and tractor driver. We also need some experienced helms for the dinghies. You may volunteer to cover the morning (09:00-13:00) or afternoon (13:00-17:00) session, or both. If you would like to help and you are already Logged in, you will see the list below. Simply click on the appropriate Volunteer button. If you consider yourself to be an "experienced helm" but can see no Volunteer button for this role, contact Terence, our Vice Commodore.
If you have an hour or two to spare on Tuesday 9 August, even if you have not volunteered to help, why not just turn up on the day and help spread cheer?

Should you have any questions, please contact Terence, our Vice Commodore.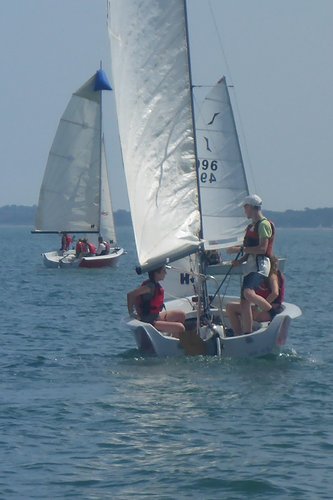 Last updated 07:30 on 10 August 2022