Commodore's Pre-season Brief
Published 12:00 on 10 Mar 2021
The Commodore's pre-season briefing on 9 March was very well attended with 46 members packed into two small screens; it was held using Zoom.
A number of topics were discussed during the free-ranging Q&A period. The ongoing groyne repairs were mentioned. It was hoped that these would help keep the slipway clear. Members had noted movement of the shingle banks. As always, care would be needed during launch and recovery. Updated pictures of the beach at low water would be shared via the website. A cadet programme would be developed. Any member interested in supporting training as a volunteer or by becoming an instructor should speak to the Training Secretary. The use of Club boats (up to 6 times per member per season) was encouraged. They were there to support training, cruising, new members, and development pathways.
For those unable to attend, a video recording of the session is available from the MEDIA/Club Webinars menu (here) and a summary of the slides used by the Commodore is available here - CommodoreBrief20210309.pdf.
Pictures of the briefing can be viewed at the Gallery (here).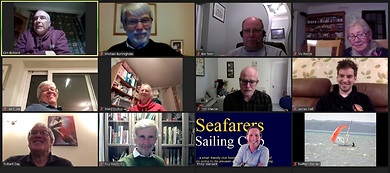 Last updated 15:25 on 3 May 2021